The Nimitz Encounters - A Short Documentary Film
On the morning of November 14th, 2004 90 miles of the coast of California near San Diego, the Nimitz Carrier Strike Group was conducting routine training and aerial defense exercises. No one could have known what would soon confront the sailors and naval aviators of the Black Aces Fighter Squadron.  Unknown craft would appear that forever changed those that encountered them. The answers to the question of "what are they?" remains unknown. After 13 years of cloaked secrecy the True Story can finally be told.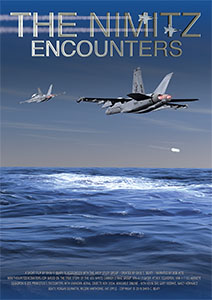 Limited Edition Movie Poster
These glossy movie posters were designed by film maker Dave Beaty and feature high resolution 3D graphics of F/A-18F Super Hornets chasing the Tic Tac UFO. Printed on 100lb stock with UV coating, 19″ X 27″
Shopping Cart is located at the bottom of the screen. No need for PayPal account you can pay with CC.
*International Customers please contact us